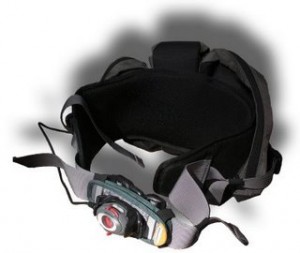 Here's something that caught my eye yesterday, on day one of Outdoor Retailer: 
GoMotion, makers of body-mounted LED lights, is introducing the Waist Light Kit for fall 2009. The Waist Light Kit is a light that easily attaches to the front of your current waist hydration or lumbar pack, or any pack with a 1.5″ to 2″ wide belt, allowing you to run, hike, walk, ski, or snowshoe in low-light conditions without a headlamp. 
The GoMotion Waist Light Kit, shown attached to the front of a waist pack. The Waist Light Kit mounts over the current pack's buckle or belt strap by two Velcro straps, and is easy to adjust or remove. It will come in both a 1-watt model and a rechargeable 3-watt model and features a low-profile Luxeon LED with multiple functions including: a beam whose angle can be adjusted 95 degrees by tilting, adjustable beam width, and three brightness levels. 
The light runs on three AA batteries and has a battery life indicator. It will even knock itself down from the highest to lowest setting if you're running out of batteries, so you won't get stuck out in the dark. 
The 1-watt Waist Light Kit will retail for $59.95. 
The 3-watt Waist Light Kit will retail for $89.95. 
Both models will be available in September of 2009.
GoMotion also offers a Sternum Light Kit that attaches to backpacks or hydration vests, and light vests and a belt for road and trail runners. For more info on GoMotion: www.gomotiongear.com