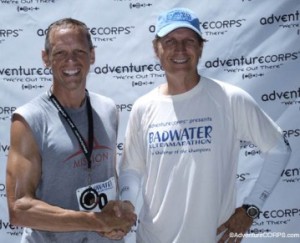 Charlie Engle turned in an impressive finish at this year's Badwater 135 beating his previous personal record by 2 hrs, and placing 4th over-all in 25hrs 45m 11sec.  It was especially impressive given some of his early race issues, and the time he took to decorate the course in technicolor the 1st 75 miles (Badwater Engle Video ).  He turned it up from there, and was pacing 8-9 min. miles at 115 miles in.  I was recently joking with race director Chris Kostman after he told me about Charlie's pr, that is was most likely b/c he was using our light during the event.  I then had to confess I wasn't actually sure if he had, or not.  Charlie was kind enough to confirm that he had indeed used a GoMotion 1 Watt LiteBelt during the race, and had these comments:
"Jonathan,
Thanks for the note. I hope that OR was good for you. I did use the waist belt version of the GoMotion light and it performed very well. I really like the comfort and the adjustments that are available. At one point I was using a pacer and I gave him the light because it was so bright, we didn't need to use two lights. So he just lit up the entire road for me. It was great.
Charlie"
Badwater takes runners 135 miles from Death Valley (280 below sea level) with temps upto 130F to the top of Mt Whitney (8,360′) for a total 13,000′ of vertical ascent and 4,700′ of vertical descent.  It has been coined, "The world's toughest footrace"  http://www.badwater.com/ .
Charlie is widely recognized for his part in the powerful documentary, Running the Sahara (http://www.runningthesahara.com/ ) where he, Ray Zahab, & Kevin Lin ran for 111 days straight and 4,300 miles across the Sahara desert to raise awareness for the need of clean water in Africa under the charitable organization H2OAfrica (http://www.h20africa.org/ ).    
 It's great getting 1st hand, hard-core feedback from someone like Charlie – Thanks, Charlie, and best of luck to you in your quest for the Death Valley Cup this year.