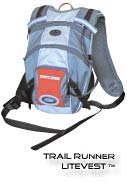 This article is also available at Sam's People.
Missed GoMotion at OR Show among the thousands there. And a New England innovator no less!
GoMotion has introduced a 3W LED headlight embedded at chest level in a reflective vest/pack. The vest also features pockets, is hydration compatible, and has LED tail lights. This approach seems very promising for trail running, nordic skiing at night (one of my big favorites)aw well as walking and running on roads at night.
I believe a reflective vest alone when running roads at night is clearly not sufficient from a safety standpoint to attract attention at a distance, particularly when the oncoming car is also facing headlights from other vehicles. They just don't see the reflectors far enough out. I always run with a headlamp and struggle with the tail light to accompany and thus would welcome an all in one solution.
A very neat concept and one I want to try, soon, as shorter days rapidly approach.
I have a 3W Black Diamond Icon headlamp. At 3W I find that finally I am able to run safely at night, even on fairly rough UT trails. Nonetheless, the headlamp beam bounces when running and you have to deal with a fairly substantial battery pack on your head. Mounting the light at chest level in a stable position with the batteries in the pack as GoMotion does seems a far better solution. The beam is pointed down the 6-8′ in front of you where you really need to see the terrain. I would also imagine less light is lost given the lower height. A trail level Dark Sky initiative!
I am curious to see what the light pattern looks like as often headlamps either provide a spot or a diffuse light with a "hole in the middle" just where the trail detail needs to be sharpest.
A very neat concept and one I want to try, soon, as shorter days rapidly approach.
Labels: gear, headlamps, packs, trail running